Continuing with the essence of Valentine's Day (okay, well, I just love to love books), I'm gonna go ahead and put up the couples I've been shipping since forever (or, since just recently…).
Top Ten Favorite Book Couples
Alanna the Lioness and George Cooper (Song of the Lioness series by Tamora Pierce) – No list of mine is complete without this first of all! A given ship considering I've written much fanfiction about these two once upon a time ago. I also read the books out of order when I was a kid, so while Alanna the First Adventure looked like it leaned toward an Alanna-Jon pairing, I kind of knew it was headed elsewhere early on. (On a side note, the fanart for the Tortallan world is stunning! I stumbled into Minuiko's Tumblr and could not get myself out of it for hours…)
Ella and Prince Charmont (Ella Enchanted by Gail Carson Levine) – A classic fairy tale couple spun by a classic fairy tale storyteller. I must have read and re-read this book multiple times and it's still one of my favorite tales of love conquering all in spite of a most disagreeable curse. It does bring the romantic in me out at least. *sigh*
Yelena and Valek (Study series by Maria V. Snyder) – Poison Study was, hands down, one of the most pleasantly good surprise books I'd read during a year I was voraciously reading everything that came to my hands. So the fact that Poison Study and Magic Study stood out to me is a big plus. I haven't read Fire Study and the upcoming Shadow Study yet, but I sure as heck want to at some point!
Fire and Brigan (Fire by Kristin Cashore) – Of the Cashore heroines, Fire is my favorite character. Not because she's beautiful. Not because of her hair (seriously, that hair, though). It was the fact that she didn't sit on her pretty laurels, nor did she settle after the first setback. Plus, she had an awesome–and creepy–monstrous power and hold over people that she could have used for tremendously ill purposes, has she been any less of a person. Fire's relationship with Brigan was perhaps one of my favorite gradual developments–one that took a great deal of trust on Brigan's part, considering how cautious and hateful he felt towards mind-manipulators.
Elizabeth Bennet and Mr. Darcy (Pride and Prejudice by Jane Austen) – Duh. Is there anything else I need to say about this relationship that I haven't already previously said several times in past TTTs and/or Regency book talks? (On a related note, I came across Death Comes to Pemberley on Netflix and watched the shmat out of that in one sitting. Great stuff, even if it was a form of published fanfiction, lol.)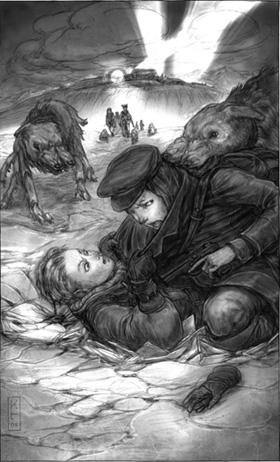 Prince Aleksander and Deryn Sharp (Leviathan series by Scott Westerfeld) – The illustrations kind of show them more like children, so sometimes I forgot that Alek was 15 and Deryn was 16 when the journey on the Leviathan began. Still, while I did consider the trilogy a children's book, Alek and Deryn were young adults making their way through a war-torn world. And there's something cute about a romance that initially started off as a bromance.
Karou and Akiva (Daughter of Smoke and Bone by Laini Taylor) – There's not much to say about this relationship yet for me, considering I'm not fully sure where it is going. I've only read the first book, but from that alone, the pairing is slowly becoming one of my favorites. I am not often a fan of the star-crossed lovers kind of romance, but Taylor made it work for me, and I'm looking forward to a tumultuous–and overall rewarding–relationship.
Paula and Stoyan (Cybele's Secret by Juliet Marillier) – The Wildwood Dancing duology kept me up at night reading, and in Paula's case, kept me tearing up a lot. I don't know why this was so (maybe because it was lack of sleep, hah!). I loved the trust challenge that occurred between Paula and Stoyan in the later part of Cybele's Secret, and found the pairing wonderful. It also helped that Paula was my favorite of the dancing sisters, even when Jenica was certainly the gateway character to a wonderful set of books.
Alexia Tarrabotti and Conall Maccon (Parasol Protectorate series by Gail Carriger) – I'm truly torn between continuing the series and not continuing the series. On the one hand, I loved Soulless, and would like to see Alexia and Conall's relationship develop past wedded bliss. On the other, I've kind of sort of looked through summaries of the later books and I'm not sure I'm willing to read through all the dramz that is apparently found in Blameless.
Kate Talgarth and Thomas Schofield (Sorcery and Cecelia or The Enchanted Chocolate Pot by Caroline Stevermere and Patricia C. Wrede) – In the scheme of things, I feel like the Sorcery and Cecelia books have been vastly underestimated. But I enjoyed the books so much, and just through her letters alone, I'd already gotten the gist of Kate and Schofield's relationship. This was a couple that I was more than happy to see past their wedding and onto new adventures.
Honorable Mentions
Warren and Kyle (Mercy Thompson series by Patricia Briggs)
Mercy and Adam (Mercy Thompson series by Patricia Briggs)
Helena Justina and Marcus Didius Falco (Marcus Didius Falco series by Lindsey Davis)
Emma Woodhouse and Mr. Knightley (Emma by Jane Austen)
---
Actually super-glad people out there love the same couples I do, and managed to draw fantastic artwork depicting this love. I am both utterly jealous and filled with respect.