I've seen this tag floating around for a while now, and it's been in the back burner. I suppose since I don't have a particular TTT to post up today, I might as well do this, right?
The tag is adorable, and I thank Soudha at Of Stacks & Cups for creating it and making me relive my favorite Disney animated movies, if albeit for a short time. XD
Disney Princesses Book Tag
Disney Princess Facts
Mulan has been my undisputed favorite. Anyone capable of calculating trajectories, force, and angles and put them to good use makes a damn good heroine to me. Also, she kicks ass.
There's a scene in Brave where Merida climbs the Crone's Tooth and drinks from the Fire Falls. That entire segment always makes me weepy. I can only blame the musical score, the beautiful animation, and Merida's vibrant force of nature.
Besides "Let it Go," which is an obvious popular choice, I tend to sing The Little Mermaid's "Part of Your World" and Sleeping Beauty's "Once Upon a Dream" to my little voldies. Not that I can sing well or anything. My four-year-olds don't judge me whenever I get my Disney princess on, so it's okay.
Snow White – Name your favorite classic
I've read a lot of classics when I was in school, and I loved a number of them. Hell, the first thought I had was to put something Jane Austeny on this category, but then I thought of the children's classics I also read growing up. Hands down, my favorite would be Alice's Adventures in Wonderland by Lewis Carroll. Through the Looking-Glass is probably a close second, but admit it, Carroll toned down on the drugs at that point, because Looking-Glass actually started to make a little more sense than Wonderland. Wonderland was nonsensical, childlike, trippy-as-shit, and great fun to read. Also, the reimaginings of this classic have always continued to wow me, even today.
Cinderella – Name a book that kept you reading well past your bedtime
I'd like to say that I don't do this anymore, but I'm pretty sure I've stayed up super-late to get through chapters of a book or fanfic, even to the point where I end up finishing the book in one gulp. The one I particularly remember is Wildwood Dancing by Juliet Marillier. I had migrated from my usual reading spot (my bedroom) down to the basement in hopes that nobody would interrupt me from my reading. By the time 2 am hit, I was up and in tears, turning my last few pages and falling even more in love with the book. I'm not sure which of my parents eventually found me sprawled asleep on the basement couch by 5 am, but that was definitely the result of reading late into the night.
Aurora – Name your favorite classic romance
This could very well have been an opportunity to mention Shakespeare's Much Ado About Nothing and not put an Austen novel into the fray, but whatever. Lizzie Bennet and FitzWilliam Darcy from Jane Austen's Pride and Prejudice all the way. Granted, I thought Emma's romance with Mr. Knightley may have been a better slow-burning romance, but I'm gonna go with P&P for all the wonderful actors who have played Darcy (including the beautiful Matthew Rhys from the adaptation of Death Comes to Pemberley), and for all the wodnerful actresses who have played Lizzie.
Ariel – Name a book that's about making sacrifices and fighting for your dreams
Kristin Cashore has plenty of characters that make sacrifices on a daily basis, only to further their goals and/or dreams. The one that comes to mind is Katsa from Graceling, who spends her days fighting against monarchs who treat their people unjustly. She puts her work and goals first, and though she absolutely loves Po (and would likely sacrifice herself for him–as is evident by the end of Graceling) she has no plans of being tied down by anyone or anything, and thus is often away from the love of her life.
Belle – Name a book with a smart and independent female character
Does this really need to be said? Hermione Granger wins the day, because she is The Girl Who Gave Literally Zero Fucks. But seriously, though, without Hermione Granger, I doubt Harry would have been able to get himself out of his forest funk in Harry Potter and the Deathly Hallows. And Ron would never be able to pronounce "Leviosa" correctly in Harry Potter and the Sorcerer's Stone. Hermione also knows how to set bitches on fire. Just saying.
Jasmine – Name a book with a character who challenged the social conventions of his or her world
I'd say Alanna does a lot of challenging of Tortallan conventions in Tamora Pierce's Song of the Lioness Quartet, but arguably, she dressed herself up as a guy for eight years before people caught on that she's just as good–even better–than any guy. I'd say it was her successor–one by the name of Keladry of Mindelan–who had to tough it out AS a female page, squire, and then knight in the Protector of the Small series. Kel has had training in the Yamani Islands, where the women fight just as fiercely as the men. Upon returning to Tortall, however, much of the nobility are still close-minded where it comes to women becoming knights. Kel sets off to prove them completely wrong.
Pocahontas – Name a book whose ending was a roller-coaser of emotions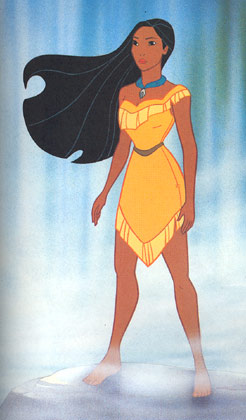 Oh god. So far, anything of Brandon Sanderson that I've read has been a roller coaster of emotions. None more so than The Hero of Ages, Sanderson's conclusion to the Mistborn trilogy. After an epic fight scene, several ascensions to godhood, and named character deaths, my brain pretty much just turned into a puddle of goo that seeped out of my head through my ears. Mistborn was intense, and The Hero of Ages didn't relax in that intensity. Not one bit.
Mulan – Name a book with a kick-ass female character
I have an entire bookcase dedicated to kick-ass female characters. And that's not even counting the high fantasies I've put elsewhere. Anyway, this one would have to go to Mercy Thompson, a character created by the fabulous Patricia Briggs. Moon Called introduced Mercy as a mechanic with an interesting group of supernatural friends, including a fae blacksmith, several werewolf packs, and a Scooby-Doo loving vampire. Not to mention the fact that she can turn into a coyote and has managed to save bigger, badder werewolves from eminent destruction. Mercy can handle her own, and this remains so throughout the rest of the series.
Tiana – Name a book featuring a hardworking, self-made character
Is it weird that the first character that comes to mind is a hooker? Yeah. Well. It's not so surprising, coming from Brent Weeks. Even his hookers have bite. And I mean "push them hard enough, and they kill you" kind of bite. In this case, I'm talking about Weeks' The Way of Shadows, which has a character called Momma K. Momma K (or Kaede), for lack of a better term, was a former prostitute, and for most of the book, she is pretty much the madame of a high-end brothel. For those who've read the first book of the Night Angel trilogy, then you'd probably understand why I bring her up. She is, in a way, a self-made woman, and a very powerful one at that. For those who haven't read the book, I'll just venture further by saying that Kaede is as much of a purveyor of the Way of Shadows as Durzo and Kylar are.
Rapunzel – Name a book that features an artist
Laini Taylor's Daughter of Smoke and Bone is not only a painting of words, but its protagonist and her human best friend are both artists. Zuzana is descended from a long line of puppeteers, while Karou's drawings are absolutely lifelike and impressive. Nevermind that Karou's "lifelike" images are too fantastical to be true. Little do most people know is that she's drawing what she knows. Which is pretty much angels and demons.
Merida – Name a book that features a mother-daughter relationship
I recently re-read Magic Study by Maria V. Snyder book, and it has such a rich depiction of long-lost family interactions. I mean, sure, Yelena's brother wants to pretty much kill her half the time, but there were great interactions between Yelena and her mother (who went a little crazy, considering she'd lost her daughter when she was still a child). It's not the most prominent interaction in the book, but I thought it was sweet and important, since Yelena did have to find a footing between Ixia and Sitia.
Anna and Elsa – Name a book that features a great relationship between siblings
Toads and Diamonds by Heather Tomlinson is a retelling of its namesake tale, except in this case, both sisters are neither villainous nor antagonistic. The gifts they are given send them to interesting parts of an Indian-inspired kingdom, and they have to hold their own away from home. There's little interaction between Tana and Diribani for most of the middle of the book, but it is clear that the two love each other, and remain to do so even across deserts.
The Tags
Well. You and you and you? Seriously, feel free to get tagged along.