Honestly, I don't think I would have enjoyed this book as much as I did if I hadn't switched out the actual book for the audiobook version. And I'll also admit that the Starz series made it even better, because Scottish brogue and visuals help when it comes to Jamie Fraser. I mean, um. Yeah.
So this review might ping-pong between the audiobook and the TV series, because I'd started watching the TV series soon after I was halfway through the audiobook.
---
OUTLANDER
by Diana Gabaldon
Dell Publishing, 1991
Historical fiction, romance, scifi/fantasy, audiobook
Rated:  / 5 cookies
The year is 1945. Claire Randall, a former combat nurse, is just back from the war and reunited with her husband on a second honeymoon when she walks through a standing stone in one of the ancient circles that dot the British Isles. Suddenly she is a Sassenach—an "outlander"—in a Scotland torn by war and raiding border clans in the year of Our Lord…1743.

Hurled back in time by forces she cannot understand, Claire is catapulted into the intrigues of lairds and spies that may threaten her life, and shatter her heart. For here James Fraser, a gallant young Scots warrior, shows her a love so absolute that Claire becomes a woman torn between fidelity and desire—and between two vastly different men in two irreconcilable lives.
Gifly Thoughts
I've seen a few polarizing thoughts about this book, and I had been familiar with the premise (that a WWII nurse travels back in time and meets the second love of her life in the Scottish Highlands). What I didn't expect was that the romance–which I knew about–burned really slowly at the beginning. And the thing with that slow-burning romance was that it was mostly on Jamie's side and largely unrequited. I mean, the only reason the OTP was even realized was because they were practically forced into a marriage contract in the guise of "protect Claire from that dirty nasty redcoat rapist."
Yes, there was a lot of sex the minute Jamie and Claire finally did get together, and yes, there was the awful horrible rape that happened at the end of the book that made me go "WTF WTF OMFG I HATE THIS EFFWAD" for the rest of the book. (Honestly, Outlander wins for having the most hateful villain ever. I fucken hated Randall, and pretty much spoke out on this sentiment every few pages during the Sanctuary chapters. Also, seeing Jamie struggle made me cry. WHY WOULD THIS BOOK DO THAT.) That's probably what turned a lot of people off the book, and admittedly, I may have been in agreement with that…
Buuuuut.
I can't say that I disliked the book. On the contrary, I enjoyed it for what it was, a historical romance novel with weird timey wimey stuff going on. I kind of got a happier ending to the story, so all in all, I was relatively satisfied.
Aaaaaand.
What really helped me like this book was the portrayal of the lovely James Malcolm Alexander Mackenzie Fraser.
And the portrayal of Claire Elizabeth Beauchamp.
And Claire's attempt to drink the entire wedding episode.
And the Scottish men playing brutal sports. In kilts. I mean, what.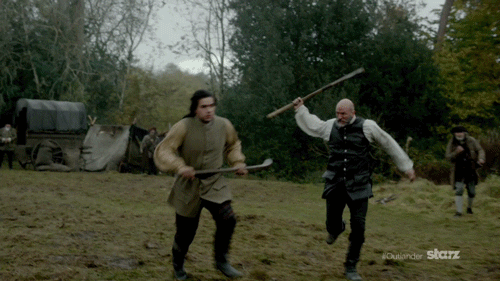 And all the swoonworthy Jamie quotes.
And smoldery Jamie looks.
And horses.
And the madness of Geillis Duncan.
And that opening song that gets stuck in my head every single time.
Okay, you know what, the TV series so far is pretty good. I was afraid it would go in the way of HBO's Game of Thrones and that it'd just throw in gratuitous sex and nudity right, left, and center as part of some kind of "shock value". (Don't get me wrong, I like GoT. I was just not overly fond of the unnecessary sex scenes like that damn ten-minute season one Littlefinger monologue or however long it had gone.) Thankfully, it wasn't like that, at least, not that I've seen so far (hell, I could be eating my words right now once I continue the first season).
And from what I saw, the TV series is quite faithful to the text. I mean, with Gabaldon herself listed as a consultant, that might be why, but it still pleasantly surprised me that the dialogue had remained largely similar (and in most cases, unaltered in essence) to what was being said in the pages.
So am I interested in reading more of the series? Definitely, though I may have to borrow the next installation as an audiobook.
4 out of 5 cookies!
---
So anyone else like Outlander? Either the book(s) or the TV show or both? Any favorite or swoonworthy or "omg why am I crying" parts for you?