Can I just continuously whine about how much I hate cliffhanger endings? HATE THEM HATE THEM HATE THEM.
And yet and yet AND YET this book was SO GOOD.
I just cannot with the cliffhanger though! You can't just end it that way, Ahdieh! WHY WOULD YOU.
Hem hem. Anyway. Gonna try to move on and review.
---
THE WRATH

 & 

THE DAWN
by Renee Ahdieh
G.P. Putnam's Sons, May 2015
YA fantasy, fairy tale retelling
Series? Yes (#1 of The Wrath and the Dawn)
Format: Audiobook
Time: approximately 10 hours
Rated:  / 5 cookies
One Life to One Dawn.

In a land ruled by a murderous boy-king, each dawn brings heartache to a new family. Khalid, the eighteen-year-old Caliph of Khorasan, is a monster. Each night he takes a new bride only to have a silk cord wrapped around her throat come morning. When sixteen-year-old Shahrzad's dearest friend falls victim to Khalid, Shahrzad vows vengeance and volunteers to be his next bride. Shahrzad is determined not only to stay alive, but to end the caliph's reign of terror once and for all.

Night after night, Shahrzad beguiles Khalid, weaving stories that enchant, ensuring her survival, though she knows each dawn could be her last. But something she never expected begins to happen: Khalid is nothing like what she'd imagined him to be. This monster is a boy with a tormented heart. Incredibly, Shahrzad finds herself falling in love. How is this possible? It's an unforgivable betrayal. Still, Shahrzad has come to understand all is not as it seems in this palace of marble and stone. She resolves to uncover whatever secrets lurk and, despite her love, be ready to take Khalid's life as retribution for the many lives he's stolen. Can their love survive this world of stories and secrets?
The Dawn
You know, this was the type of book I would have preferred reading over listening to. Don't get me wrong, the narration was beautiful in and of itself, the descriptions vivid enough to be able to imagine. Don't even get me started on the descriptions of the food. (GIVE ME ALL THE FOOD.)
And that's the thing. The writing style was lyrical and lovely, and I would have loved to have read the words on top of having listened to them.
"You honestly expect me to breathe in a world without air?"
Seriously, though, I may have teared a few times with how pretty the writing was.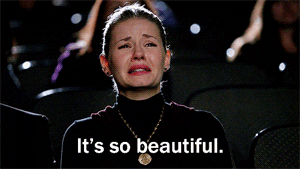 But let me rewind for a second to talk about how this book could have gone and done so much wrong with the romance. (But thankfully, it went right IMO.)
The Stockholm Syndrome was there, you guys. Although, to be honest, I'm not sure one can classify Shahrzad's situation as a hostaging or kidnapping one. She'd volunteered to marry Khalid, had known she was going to die (though not before she took the monstrous boy-king down with her), and was perfectly capable of handling herself when push came to shove. Meanwhile, Khalid himself pretty much gave her the freedom to go at some point or other, he never really lay a hand to hurt her, never made an intimate enough move unless Shahrzad herself gave express permission. Pretty much, Shahrzad remained resolute about staying within the confines of wifedom. That's not to say I often did feel a bit of the awkward SS creeping up from time to time, only because yeah. Khalid kind of sent 70ish brides to death for what it looked like as no good reason, and Shahrzad ends up getting the hots for him. Rather awkward, I should say. Still, it does get better later on, when a bit of the mystery was revealed to both Shazi and the reader.
All the same, between Shahrzad's two romantic interests, my money's on Khalid.
"I prefer the color blue to any other. The scent of lilacs in your hair is a source of constant torment. I despise figs. Lastly, I will never forget, all the days of my life, the memories of last night–for nothing, not the sun, not the rain, not even the brightest star in the darkest sky, could begin to compare to the wonder of you."
I just…HOW SMOOTH CAN YOU GET? REALLY?! REALLY, KHALID?!
Shahrzad is also a force in and of herself, and I'd love to see how she deals with her predicament in the next book. She still has a lot to learn, and after much revelation happening in the end of the book, there is a LOT to take in.
"We women are a sad lot, aren't we?"

"What do you mean?"

"Strong enough to take on the world with our bare hands, yet we permit ridiculous boys to make fools of us."

"I am not a fool."

"No, you're not. Not yet."
Not to mention, the cast of secondary characters slay me. I was left interested by what Jahandar was up to, and how Tariq was going to squirrel his way into the palace (though honestly, I am not overly fond of the man myself). I absolutely adored Despina to bits, and I totally ship Despina and her, um, romantic interest, yes. Despina made me laugh, for sure, but Jalal probably takes the cake in the most humorous–and most aww-ish–for me. His unwavering loyalty to his cousin makes him endearing. Also, the Rajput! The Rajput was awesome, too.
The Wrath
I did feel that the whole curse revelation thing took too long to manifest. I mean, yeah, okay, most of this book was pretty much trying to establish how the characters feel and interact with each other. With Shahrzad being the central character, she had to wade waters in both worlds, juggling what she knew about herself, her family, and what she thought she knew about her husband, to contemplating how much she had wrong, and how much deeper her situation is compared to what she came in with. Sometimes her constant "TELL ME TELL ME TELL ME NOW" whines–which actually happens a lot in the book–get a bit annoying. Then I remember she's only 16. And, while the people constantly refer to Khalid as "the boy king," I still took for granted he's only 18. Which means, I should have expected this angst in the first place.
There was Tariq's constant anger. I'm surprised nobody found him out until too late. It almost seemed like he was glowering the entire book and hating the world for the situation he was put in.
Also, there was the case of the disappearing sister. Shahrzad's sister had maybe one or two scenes in her POV and then she suddenly disappeared into oblivion. I don't think I'd heard from her since those chapters, which I suppose could be explained in the next book, but still. I would have forgotten about her by now if not for the briefest mention of Shahrzad's family later on in the book.
4 out of 5 cookies! Worth reading in text next time around, and I am definitely picking up the second–and hopefully final–book in a couple of days!
---