I think I may have done a movie-book adaptation list a while back, so this time around, I'll get specific. So that means adaptations of specific books. And off the top of my head, I've decided to go and talk about movies and mini-series based off of Jane Austen books. Oh yes. This is happening, guys. So happening. And yes, there's a lot of Pride and Prejudice adaptations I'm going to throw in here, because why not.
Top Ten Movies and Mini-Series Adapted From Jane Austen Novels
Sense and Sensibility (1995) – There's just something about that last Emma Thompson scene where she breaks down that's absolutely fantastic. It's pretty much the culmination of all that repressed emotion in the book, boiling down to blubbering when she finally gets proposed to. Definitely one of my favorite scenes, both in the book and movie.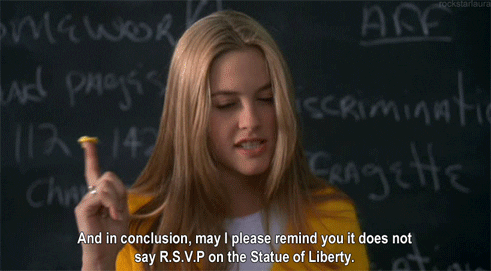 Clueless (1995) – Quite possibly one of my favorite of any modernized Austen retellings ever. Ever. And time and again, a number of films have tried, but for the most part, they don't really match the quirky caliber of Clueless. It is ultimately Emma if it took place on Beverly Hills with a bunch of high school students who don't know any better.
Emma (2009) – Honestly, I've liked all the Emma adaptations that I've seen so far, but after seeing Romola Garai's version of Emma, I see no one else in the role. Her face is absolutely expressive in that snooty Emma way, and you honestly don't need her to spell her reactions out when you can see it plain as day.
Mansfield Park (2007) – I actually haven't paid much attention to this book until recently, but it has started to grow on me after a time. I know the 2007 version adds a bit more backstory of the book, but I liked where the movie went with it, and I actually like Billie Piper as Fanny Price!
Bride and Prejudice (2004) – Because "no life without wife" pretty much sums up the beginning of Pride and Prejudice so well. Also, the songs in this Bollywood movie are so. damn. catchy. I might have to find a copy just to watch it again at the risk of getting all the songs stuck in my head for days to come.
Bridget Jones' Diary (2001) – Also another Pride and Prejudice retelling that I loved (yes, I have a lot of those). And I mean…Mr. Darcy is being played by Colin Firth, and he is the modern iteration of Austen's Darcy…just, a lot of yes to that.
Death Comes to Pemberley (2013) – I'm very picky with my Mr. Darcys, so when I saw this little retelling of Pride and Prejudice on Netflix, I was intrigued. I love Matthew Rhys to begin with, so it wasn't very hard for me to get won over by his version of Mr. Darcy. This story isn't really so much an adaptation of a Jane Austen book as an adaptation of somebody's continuation. Death Comes to Pemberley was penned by P.D. James.
Pride and Prejudice and Zombies (2016) – This is such a hoot and a half, and honestly Matt Smith as Mr. Collins is just perfect. That said, again, this adaptation is of a parody written by Seth Grahame-Smith, and shouldn't really be taken seriously. It's just P&P with zombies and a group of fighting Bennett sisters.
Pride and Prejudice (1995) – Easily my favorite adaptation of anything Austen. Yes, it's a six-hour long mini-series but I seriously can watch this several times within a given year and I'd be okay with that. Jennifer Ehle and Colin Firth are THE Liz and Darcy for me, and there's yet to be a P&P adaptation that's come close.
Lost in Austen (2008) – Now let me talk about this gem of a mini-series. This gem puts a modern woman into the story of Pride and Prejudice and by some twist of fate, said woman gets whisked off into the world of P&P while Elizabeth Bennett gets thrown into the real world (and is loving it, btw). In this particular mini-series, Amanda takes Lizzie's place, and it's sort of like an Austen version of Outlander, except, you know, not. Um. I'm losing my point here, but that's me getting distracted.
I mean, um, what?
Anyway, there's my Austen showing. Maybe next week I'll tone it down a bit, lol!
What's YOUR favorite TV show or movie adaptation of a book?