With Mother's Day having just passed, I thought this was a cool topic to delve into. Not to mention the fact that I'd just finished talking about Briar Wilkes, a mother in a particular steampunk book (which also fits into my scheme of book moms…) I've reread recently.
Book moms are far and few, and often they're likely dead of something or other. Gosh, why are most of my fave heroines lacking in a mother figure anyway? But that's a completely different topic altogether (which, now that I think about it, I wonder if I can do a "Top Ten Heroes that Received the Batman Special"…damn, that's depressing). In any case, I wanted to celebrate the cool book moms in books I've read that had book moms.
Top Ten Book Moms
Snow White – Fables: Vol. 19, Snow White by Bill Willingham – This is practically the latest volumes I've read of Fables, but hell, I've always admired Snow White. I thought she'd been sidelined for many volumes, but she shined once more in this volume. She's a mother of seven wolf cubs and while her husband Bigby tends to be the muscle and grand protector of the family, there's no denying how overly formidable she can get when her children are on the line.
Emira Maresh – A Conjuring of Light by V.E. Schwab – Um, OF COURSE Emira. She wasn't as active as I'd hoped she'd be, but again, she's a mother who has a ton of love for her two sons (and one of them's adopted!). She's also a waterbender. And I like waterbenders. Almost as much as I like firebenders. Um. And metalbenders. Wait. I'm in the wrong fandom…but whatever!
Molly Weasley – Harry Potter and the Deathly Hallows by J.K. Rowling – What Harry Potter fan is going to forget this iconic lady and her "NOT MY DAUGHTER, YOU BITCH!" line? Frankly, it was one of the best goddamn things in the seventh book. After having a child die and seeing a few of her sons maimed eternally by dark magic, she was having NONE OF IT when it comes to her daughter. Ginny's got one fiery-haired mum, that's for sure.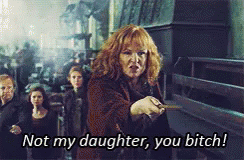 Briar Wilkes – Boneshaker by Cherie Priest – I mean, obviously I was putting Briar on this list. At some point in the book she mentions at how bad a mother she is. Then, quite literally the next day, she's boarding a smuggler's airship, aidropping onto a ravaged Seattle, and braving the perils of zombie gas, rotters, and mad scientists in order to get her boy. Yeah, she's totally a badass book mom.
Catelyn Stark – A Storm of Swords by G.R.R. Martin – Oh yeah. She also gets thrown in here for being a staunch supporting mother of all her children. I was between Catelyn and Cersei, but honestly, Cersei annoyed by in the fourth book and my heart goes out to Lady Stoneheart and her taste for vengeance. Also…DEAAAAATH.
Mara of the Acoma – Mistress of the Empire by Raymond Feist and Janny Wurts – I will admit I haven't read this book. I absolutely loved Daughter of the Empire, and I'd read Servant of the Empire but I couldn't bring myself to reading the third book after I was a little bit disappointed with the second. Mara, however, is still one of my favorite characters, and she becomes a mother by the third book, which upped the stakes even more in this finale of the trilogy.
Mrs. Bennet – Pride and Prejudice by Jane Austen – Mrs. Bennet isn't really the ideal mother, but hear me out. Listen. She's still the most comedic character in all of the Austen novels put together, because she practically tells it how it is. She wants her daughters married off, and she's not afraid to tell you what she thinks of men who scorn her daughters for their lack of wealth and standing. The woman has a screw loose in her head and she definitely has to relabel her priorities, but come on, she totally meant well.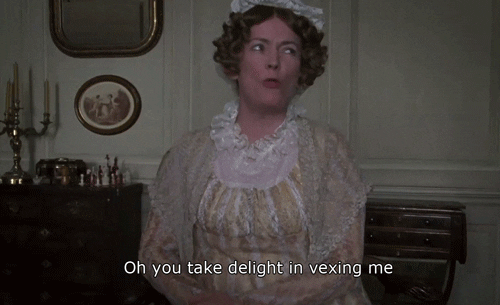 Eleni Cooper – Lioness Rampant by Tamora Pierce – She's practically a secondary character, but a strong one in the Tortallan world. Now, honestly, I would have said Thayet hands down, but Eleni has a quiet strength to her, and she gets major kudos for having reared a felon without dying of a heart attack soon after. That said, George kind of came off fine in the end, and Eleni can rest easy that her son has a comfortable life.
Mrs. Frisby – The Secret of NIMH by Robert C. O'Brien – I really liked this book as a kid, and I absolutely loved the animated movie that came out in the '90s that was based on this story. Mrs. Frisby was the type of mother who went the extra mile in order to save her family from destruction. And boy oh boy, does she go places.
Queen Ashen – Bitterblue by Kristin Cashore – You don't get much of her essence in Graceling, even though much of the story happens to have taken place when Leck is still alive. That said, much of Ashen's past comes back during Bitterblue's story. Ashen was a queen who, like almost everyone in the Monsean court, fell victim under Leck's Grace. This brought about all sorts of horror upon Ashen; however, she still manages to pull through when it came to the thought that her daughter would get hurt. Ashen is solely responsible for Bitterblue's initial survival, and it is thanks to her that her daughter is queen of a once-doomed kingdom.
How about you? Which book mothers made your list?