Initial Thoughts:
I feel conflicted about this book. I so very wished that it was just a damn standalone because AS A STAND-ALONE I CONDONE THE SHENANIGANS A LITTLE BIT. What drove me nuts was the hint of a love triangle. OF COURSE that's what would drive me nuts.
---
A COURT OF THORNS AND ROSES
by Sarah J. Maas
Bloomsburry, May 2015
New adult fantasy, fairy tale
Rated: 3.5 / 5 cookies
Feyre's survival rests upon her ability to hunt and kill – the forest where she lives is a cold, bleak place in the long winter months. So when she spots a deer in the forest being pursued by a wolf, she cannot resist fighting it for the flesh. But to do so, she must kill the predator and killing something so precious comes at a price …

Dragged to a magical kingdom for the murder of a faerie, Feyre discovers that her captor, his face obscured by a jewelled mask, is hiding far more than his piercing green eyes would suggest. Feyre's presence at the court is closely guarded, and as she begins to learn why, her feelings for him turn from hostility to passion and the faerie lands become an even more dangerous place. Feyre must fight to break an ancient curse, or she will lose him forever.
Note: This review has spoilers. This review is also a mess. This review won't discuss everything I made notes on because future podcast reasons.
So I have a love-hate relationship with Maas right now. Well, maybe. Okay, not so much her as a person but the direction she takes stories sometimes. Alright, all the time, judging from what I've been seeing on the Maas fandom.
I'm going to back track because honestly, I loved Throne of Glass and likely I'm going to love Crown of Midnight, but I haven't read anything past ToG in ages. And then I ended up picking ACoTaR for "research" reasons. And judging from the pattern that's said to have happened in the ToG series (where eventually the intended ship sinks and the story goes in an entirely different direction), I'm betting it's going to be the same in the ACoTaR series. Correct me if I'm wrong, but considering I'm hearing more about how awesome Rhysand is and not enough about Tamlin, I'm willing to bet the story gets away in the later books and shifts into something horribly wrong.
(Like Rhysand the jerkwad being part of the romantic arc. Oh god, he so is.)
So…anyway, this book.
I was a little underwhelmed by it, and for the longest time I ping-ponged between liking the story and groaning because once again, the main character was doing something stupid. Feyre is very different from the massively confident and deadly Celaena (or whatever her name is nowadays), and she constantly reminds me of how different the two characters are by putting herself down several times within the same chapter. I get it, Feyre, you're human, you're not something super-powerful or assassin-like deadly, you're not even a special snowflake (up until the end of the book where we discover OH LOOK. She's quite phenomenally a snowflake now!). But for eff's sake, you killed a damn snow-fairy-wolf-thing right in Chapter 1, so clearly you aren't as useless as you make yourself out to be.
Rant over, I liked where the story was actually headed at a certain point. Things picked up once Feyre actually stopped trying to run away and started trying to live her life within Tamlin's castle. I mean, it's an effing easy life, Feyre, stop making excuses about family vows when clearly EVERYTHING IS BEING TAKEN CARED OF. What the hell, Feyre. Does nothing please you?!
Alright, sorry, I get heated when I think of the main character.
There is a rich history revolving the creation of the wall between humans and fae. There is a great war that happens which killed off many people on both sides of the war, and somewhere along the way, a Treaty is enacted in order to keep the peace between the fairy realm and the mortal realm. Now the problem with Treaties is that for one side to stick to it, the other side has to stick to it, too. But clearly in this story, there's some rule-breaking ahead, and that's what lands Feyre in the mess she's in.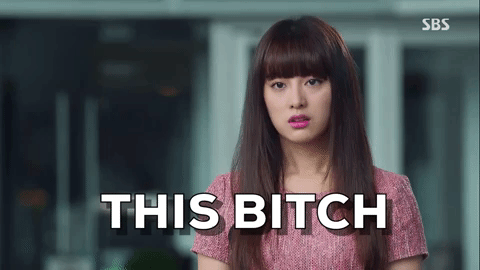 I wish there'd been more of a prologue to work with. It took two-thirds of the book to finally introduce the big baddy, who turns out to be someone whose past revolved around love and betrayal–typically something you'd expect humans to feel, not so much the fairies. The whole affair in the fairy court humanizes creatures like Tamlin and Rhysand and Amarantha, and also displays the kind of shit they get into when they're super-powered creatures with very human problems. I liked that. I liked that a lot.
(There could have been a bit more work on the worldbuilding, which is a whole other discussion that would get really lengthy, so I won't even try to talk about that right now.)
I was pretty tickled with the romance. It wasn't exactly smooth sailing, and I don't really know if I'd ship them, but I will admit that the sexy times were the right kind of steamy. Except for that one bit where Tamlin pretty much bites Feyre and then talks about the dirty things he'd do to her if he'd caught her during one of the fairy festival-rituals. Yes, I know, she didn't seem so bothered by his advances, but um, dude, no means no. Totally creepy. Thankfully, Tamlin isn't super-psychotic, and it turns out he's kind of a nice guy, except when he's being all fae-y. A nice, muscled, strong guy with a mask perpetually glued to his face, but Feyre totally knows he's hot underneath that, just by how his strong jaw looks and everything. He doesn't even keep slaves or anything! (This is me trying my best not to snort…seriously trying here!)
As for Rhysand…I still think he's a jerk. The Darkling from Leigh Bardugo's Shadow and Bone comes to mind for comparison, and honestly, I thought the Darkling was a more compelling and seductive force than Rhysand was. It's clear both characters are assholes, but honestly, the Darkling was a special kind of lovable asshole (or…maybe it's just me…).
Um. Lucien was awesome. So was Nesta, actually. I want more of these two characters. Yep.
3.5 out of 5 cookies! Again, there was a lot more I wanted to say, but I'll save it for podcasting purposes.
---
Have you read this book? What did you think?