Initial Thoughts: 
This world is pretty damn cool and definitely Gossip Girl of the future. But ohgod the drama I could. Not. Deal. The best POVs were from the peasants below floor 500 and I just REALLY WANTED THE ONE COUPLE TO GO RIGHT.
But let's be honest, if this had been turned into a TV show I'd so watch the eff out of this dramatic trash. Pity I ended up listening to the book instead.
---
THE THOUSANDTH FLOOR
by Katharine McGee
HarperCollins, August 2016
YA science fiction
Rated: 2.5 / 5 cookies
WELCOME TO MANHATTAN, 2118.

A hundred years in the future, New York is a city of innovation and dreams. Everyone there wants something…and everyone has something to lose.

LEDA COLE's flawless exterior belies a secret addiction—to a drug she never should have tried and a boy she never should have touched.

ERIS DODD-RADSON's beautiful, carefree life falls to pieces when a heartbreaking betrayal tears her family apart.

RYLIN MYERS's job on one of the highest floors sweeps her into a world—and a romance—she never imagined…but will this new life cost Rylin her old one?

WATT BAKRADI is a tech genius with a secret: he knows everything about everyone. But when he's hired to spy for an upper-floor girl, he finds himself caught up in a complicated web of lies.

And living above everyone else on the thousandth floor is AVERY FULLER, the girl genetically designed to be perfect. The girl who seems to have it all—yet is tormented by the one thing she can never have.

Amid breathtaking advancement and high-tech luxury, five teenagers struggle to find their place at the top of the world. But when you're this high up, there's nowhere to go but down….
Futuristic Gossip Girl
Every single description of this book that I've seen so far describes it as being the futuristic Gossip Girl, and I'm definitely in agreement with that. If you ask me, it's what brought me to wanting to read the book in the first place, because I frigging loved Gossip Girl. Chair ship ftw!
But as much as I loved GG, I couldn't honestly rate this as high as I would have liked, because much of the drama drove me nuts.
How is this drama different from GG, you ask?
There isn't much difference, honestly. There's a ton of underage drinking, there's sex scandals right, left, and center, there are drugs and drug addicts, there are perfect teenage specimens littered throughout the pages, and there's conspiracy like you wouldn't believe.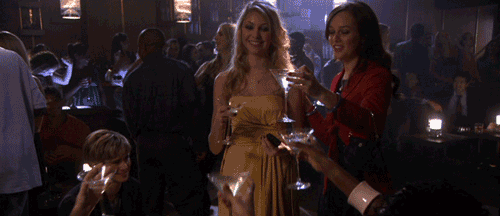 The added bonus is that this takes place in 2118, well into the future, where cities fit into one entire building, all the way onto the thousandth floor.
So what's not to like?
Honestly, I rolled my eyes every single time Avery's POV showed up. The way she's been characterized is that she's "practically perfect in every way," and honestly, the ONLY problem she seems to have is that she is in love with her adopted brother. This in itself is cringe-worthy in all ways (it's just wrong, so wrong, and nothing in the world will make this OKAY–AND GOD WHY THE HELL DO THEY NOT STOP). A lot of the girls want Avery to like them, because at the end of the day, she's Queen Bee, and I don't know, but most queen bees are not characterized as being "nice." Avery is NOT nice. She's as P-E-T-T-Y as everyone else clamoring up near the thousandth floor, and she's quite honestly my least favorite character ever because every single time her POV shows up, all she's doing is whining and pining over Atlas–when she's not heavily drinking and hosting pity parties for Eris, that is.
Which brings me up to the love-hate relationship I have with Leda, Avery's best friend. Leda's obsession is definitely creepy, and things escalate to a point where she does really unforgivable things. But ya know, I love batshit crazy when it comes to story, and Leda is as batshit crazy as you're going to get, drugs included.
On the bright side, I do want to highlight some really good things I found about the book that will eventually lead me to reading the rest of the trilogy (please just let this be a trilogy, because I really don't want to keep reading this if it's a series…).
Rylin and Cord – Of all the pairings that get introduced in this story, I'm really hoping this is one that eventually pans out at the end. The ending in the first book frustrated me to no end, but let's face it, the two still have feelings for each other, and I'm always a sucker for poor girl and rich boy stories (I'm also currently watching Meteor Garden and I absolutely loved Hana Yori Dango and Ouran High School Host Club…if that says anything about my mentality). I MEAN, HE TOOK HER TO PARIS COME ON.
Watt – I'm still not sure how I feel about Watt entirely, but his storyline does bring a bit of technology back into the book. Watt and his quant Nadia get embroiled in the story because of Leda and Avery, and while Watt lives well below floor 500, like Rylin he eventually manages to drag himself into the dramatic lives of the upper floor miscreants.
The futuristic environment is probably the most intriguing part of the book. If there's anything more appealing about this world, it's the fact that hierarchy quite literally means the higher you are, the more powerful your family is. In this case, the Fullers–with their massive property ownership–are the richest of the rich, even going so far as to genetically create their daughter Avery to perfection. I also liked the idea that the upper floors seem spacious enough that they look more like the outside world than what we eventually see as apartment floors.
I guess I want to defend the rating by saying that had this been a TV show, I would have watched the crap out of it. It's just the right amount of YA angst that would entertain me. It's definitely the right amount of teen drama that could get super addicting really quickly (hell, I binged GG at some point…), and heck, the first few pages hooked me because the book started with the death of a girl (which, of course, made everyone ask "Which girl died?!"). It has every formula for being fantastic. And yet I found myself cringing a lot and skipping a few chapters just to get to ones I wanted to read about.
2.5 out of 5 cookies! As much as I would love to rant about this book, I'd probably continue reading it if only to see how many of these hooligans die off and whether or not my ship actually makes it through.
---
Have you read this book? What did you think?