Initial Thoughts: 
OMG I AM CRYING WHAT THE FRELL HAS THIS BOOK DONE TO ME. I AM NOW AN EMOTIONAL WRECK AND WHY ISN'T THE NEXT BOOK OUT WHY.
This is fantasy at its finest. Actually, the last bit in the book reminded me of Lady Knight by Tamora Pierce because both books clearly touched upon real-world issues and influences and put these issues in mothereffing FANTASY and it was. SO. GOOD.
Needless to say, it's taken me ages to get from start to finish, but that's what made the journey a million times worthwhile.
---
CHILDREN OF BLOOD AND BONE
Tomi Adeyemi
Henry Holt Books, March 2018
YA fantasy
Rated: 5 / 5 cookies
They killed my mother.
They took our magic.
They tried to bury us.

Now we rise.

Zélie Adebola remembers when the soil of Orïsha hummed with magic. Burners ignited flames, Tiders beckoned waves, and Zélie's Reaper mother summoned forth souls.

But everything changed the night magic disappeared. Under the orders of a ruthless king, maji were killed, leaving Zélie without a mother and her people without hope.

Now Zélie has one chance to bring back magic and strike against the monarchy. With the help of a rogue princess, Zélie must outwit and outrun the crown prince, who is hell-bent on eradicating magic for good.

Danger lurks in Orïsha, where snow leoponaires prowl and vengeful spirits wait in the waters. Yet the greatest danger may be Zélie herself as she struggles to control her powers and her growing feelings for an enemy.
Listen. LISTEN. There's only been a handful of audiobooks I've listened to that I then had the need to read a hard copy of, and seriously, that list only amounts to two so far. One was A Darker Shade of Magic by V.E. Schwab, and the other is Children of Blood and Bone. Now, this could very well just mean "oh hey, I really shouldn't listen to fantasy at all, because knowing me, I'm gonna want a copy of the book anyway," and yeah, this is very true. There's a reason I don't normally listen to fantasy on audio.
But this book. I urge you to listen to it. I urge you to read it. Seriously, from the beginning of the very first page, I had chills as I listened to the audiobook. And then I had chills again when I read the page myself. And then I had chills thinking about both altogether.
I think about the way her corpse hung from that tree.

I think about the king who took her away.
And there's every reason to squee, because as a reader, I savored the book as slowly as I could, entrenching myself in a world where magic is on the verge of coming back. And as a writer, I had to keep getting snapshots of my favorite lines because holy hell, the words fell so elegantly on the page that I had to admire Adeyemi's word choice.
I fucking loved this book. So much. I don't care what anyone else says.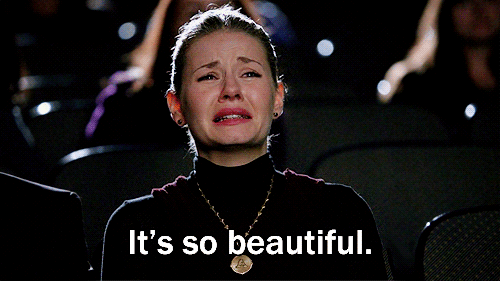 But let's pretend that I didn't already love the book on page 1. Let's play a game of:
If I Didn't Already Love The Book…
If I didn't already love the book, I'd love it for its diversity. It's a book inspired by Yoruba culture and West African mythology. It is an African world that touches on heavy themes like colorism (because it's clear in the book that the lighter-skinned nobles and kosidan are treated better than the darker-skinned diviners). It is a world that touches on deep-rooted prejudism for "the Other" that every single time the word "maggot" is mentioned, you can't help but flinch because of how much that word is drenched in puddles of hate. It is a world where women are once again marginalized by society, but it is also a world where many of the women are not at all defenseless (Kaea, Mama Agba, Amari, Zelie, Zu, Folake, the diviners and kosidan in Mama Agba's care just to name "a few"). And hot damn it felt good to see so many of them rise up and fight.
I nod, remembering Father's rants from long before the Raid. The Britaunis. The Porltoganes. The Spani Empire–all civilizations destroyed because those who had magic craved power, and those in charge didn't do enough to stop them.
If I didn't already love the book, I'd love it for the worldbuilding and rich history. There are maji clans listed in the beginning of the book. There are places I would love to visit, including the temple at Chandomble. There's even mention of worlds that had succumbed to the dangers of magic, which gave rise to a fear and hatred against it. I loved that the world got fleshed out, and if that meant a lot more exposition happened in certain parts, then so be it!
If I didn't already love the book, I'd love it for its very non-subtle Avatar: The Last Airbender parallels. It is no secret that Adeyemi pulled inspiration from places like AtLA and Ember in the Ashes (which I saw with glee when the actual term, "ember in the ashes" got used in the book at least once). She's said so in interviews herself. I mean, Inan is definitely an African Zuko, complete with amber eyes, uncanny competence in finding the Avata–erm, the ONE diviner, and a shitton of daddy issues. Okay, so Inan isn't scarred physically, but he does gain a bit of an interesting physical feature, has a tendency to hate himself, was on his way to a really good redemption arc throughout the book, but somehow manages to eff that up like Season 2 Zuko.
If that itself wasn't already a dead giveaway of Blood and Bone's AtLA-ness, how about the random mentions of Zelie–whose power over the dead can be greatly enhanced by bloodbending–and her affinity to water?
"You seem at home in the water," I say. "I'm surprised you're not a Tider."

"Maybe in another life."
Zelie smells like the ocean. There's a whiff of saltwater and sea whenever Mr. Dreamie McDreamer thinks about her silver eyes and white hair. And like…COULD THIS SHIP BE ANY MORE CUTE THOUGH?
"What were you thinking?" I ask.

"You were in danger," he answers. "I wasn't."

He reaches down and grazes a cut on my chin. A strange flutter travels through me at his touch. Any possible response jumbles in my throat. I don't know what to say to that.
And maybe, just maybe in another life, my ship actually, truly happens, too. Or, you know, there's always fanfic!
If I didn't already love the book, I'd love it for the perfect composition of sentences. Some sentences were like music to my ears. I had to repeat reading them because they were so well-placed. I don't know how long Adeyemi stared at the computer for as she typed her book up, but if it were me, I'd still be racking my head around how to sort my sentences out. She just makes word choice look effortless.
But for all my plotting and maneuvering, it's obvious the girl isn't here. Though there's no shortage of glaring diviners, her silver gaze is not among them.

I release the throwing knife as something I can't place deflates in my chest. It sinks like disappointment.

It breathes like relief.
I just…sigh.
If I didn't already love the book, I'd love it for the fire in Zelie and the lionaire in Amari. I will admit Amari wasn't as interesting to me up until she'd started to show her competence with a sword. But she is a lionaire by the end of the book, and I was rooting for her to get shit done and shank a few people (which she does, so YASQUEEN to that!). Zelie was always my favorite, though. She is your feisty protagonist with a responsibility like no other. I cannot wait for what happens next, and if it means going back into Orisha with Zelie and Amari in tow, I wouldn't mind it one bit.
"You clutch it the way a child clutches a blanket," Zelie releases a heavy sigh. "You fight for a man who will always hate you just because of what you are."
You tell him, Zelie. You tell him.
5 out of 5 cookies! Seriously, you guys. This is definitely one of my favorite books of the year.
---
Have you read this book? What did you think?