Initial Thoughts: 
I hereby apologize to all you Rhysand believers. I love him now. I didn't think I ever would even if he IS sex on a stick…but I love him now. So terribly deeply. And I love Feyre's entire growth as a character. And I absolutely loved the progression of the story and the character arcs.
And Velaris, the City of Starlight? Um, CAN I GO TO THERE?!
Yeah. You win, Maas. You win.
---
A COURT OF MIST AND FURY
Sarah J. Maas
Bloomsbury, May 2016
NA fantasy, romance
Rated: 5 / 5 cookies
Feyre survived Amarantha's clutches to return to the Spring Court—but at a steep cost. Though she now has the powers of the High Fae, her heart remains human, and it can't forget the terrible deeds she performed to save Tamlin's people.

Nor has Feyre forgotten her bargain with Rhysand, High Lord of the feared Night Court. As Feyre navigates its dark web of politics, passion, and dazzling power, a greater evil looms—and she might be key to stopping it. But only if she can harness her harrowing gifts, heal her fractured soul, and decide how she wishes to shape her future—and the future of a world torn apart.
In Which Mari Eats Her Hat
I will start this review by saying that initially, I had had no plans to continue this series in the nearby future. It's not that I'm highly against Sarah J. Maas–I loved Throne of Glass and will likely love Crown of Midnight as well–but from the last time my friend Meg and I discussed A Court of Thrones and Roses as part of our podcast, we were both pretty "meh" about it.
I found Feyre to be silly.
I didn't particularly like Rhysand (because he was most definitely a prick).
The worldbuilding and plot took a secondary role to the romance.
I thought the romance was a wee bit awkward (as were the sex scenes).
Aside from the pretty riveting last 100 or so pages at the end, the only character I simply adored was Nesta and her sass.
But after some soul-searching (or, you know, the fact that I have to read this book for the Fableulous Retellings Podcast) and sighing of reluctance, I finally started to read it. After the first sex scene appeared 21 pages in, I didn't have much hope that the book would pick up. (My friend said it did, and it was her assurance that spurred me on!)
Two days and 600 pages later, I started eating my hat. Because everything I'd objected to in ACOTAR got utterly fixed in ACOMAF and holy hell, when things got fixed, they got SO GOOD SO FAST, and I absolutely adored this book.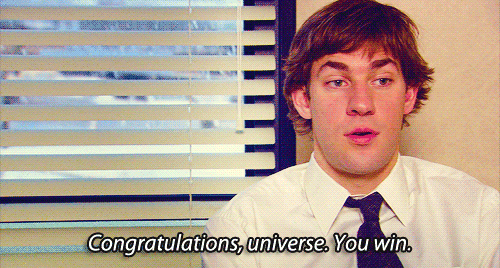 Feyre isn't silly at all anymore. Feyre went a long way as far as her character development went. At the beginning of ACOMAF, she is a broken woman, traumatized by what she had to go through with Aramantha and the goings-on of Under the Mountain. It was a grueling experience in ACOTAR, and it shows by how different Feyre is at the beginning of this second book.
I was not a pet, not a doll, not an animal.

I was a survivor, and I was strong.

I would not be weak, or helpless again. I would not, could not be broken. Tamed.
And yet she riled up and became a powerhouse. Yes, she still has nightmares, and yes, it's still going to take some time for her to heal from her traumas, but at the end of the day, she knows who she is and what she wants. And if she wants to be a High Lady to the Lord of Night, and if she wants to spend her days in the City of Starlight, who am I to begrudge her that dream of the future?
Rhysand is my sex on a stick TDH and I love him to pieces. Seriously. SERIOUSLY. How does that even happen.
The only evidence I had at all that Rhys remained on the premises were the blank copies of the alphabet, along with several sentences I was to write every day, swapping out words, each one more obnoxious than the last:

Rhysand is the most handsome High Lord.

Rhysand is the most delightful High Lord.

Rhysand is the most cunning High Lord.
Oh, right. It's because Rhysand is a beautiful, sassy, tortured High Lord, and he is a fucking romantic. Like, who knew from his prickish ways from ACOTAR, right? But turns out he isn't the villain he set out to be, and just like Feyre, he made a great deal of traumatic sacrifices Under the Mountain. One of the biggest things I loved about him was his loyalty to his people, to Velaris, and–of course–to Feyre.
"Delicious," he purred.

My brows now knotted. I read the next two words, then whipped my face toward him. "You look absolutely delicious today, Feyre?! That's what you wrote?"
He also taught Feyre how to read and use her powers. COME ON HOW IS THAT NOT SEXY?!
Seriously, though, I loved him to pieces. And after that heartfelt confession in Chapter 54, I can see I had it all wrong. And I'm glad I read ACOMAF to set that straight.
The Night Court, holy hell, can I go to there AND the Summer Court, too?! We get a look at the rest of Prythian–and Hybern–in this book. I've actually liked the descriptions of the Spring Court, but Maas totally dialed up the beauty and vivid aspect of the Night Court, particularly Velaris. This city of Starlight is legit, and if I could live anywhere in Prythian, it'd definitely be in a place where the nights are the most beautiful. The glimpse we had of the Summer Court wasn't bad, either, but nothing seems to compare to the glamour of a hidden, 5000-year-old city.
(But of course as far as plots go, you totally know what's going to happen when a war is coming in, and there's a hidden city in the agenda to crush…)
The romance was absolutely everything. You know what, after the first sex scenes, it literally took a good 500-something pages to finally get the full-on Rhysand-Feyre action that I'm sure everyone was waiting for in this book. The fact that it was such a slow-burn was the best thing ever. Yes, there were flirtations, yes, there was some tension, and of course the whole mate bond thing seems to remind me of the mate bonds I've read in urban fantasy (which, to be honest, is either something you like or hate). But honestly, I adored the whole journey that finally brought the Feysand ship together.
His words were a lethal caress as he said, "Did you enjoy the sight of me kneeling before you?"

… "Isn't that what all you males are good for, anyway?" But the words were tight, near-breathless.

His answering smile evoked silken sheets and jasmine-scented breezes at midnight.
I mean, if I wasn't already fanning myself with all the sexting and flirting going on, then those steamy new-adult scenes definitely made me squee-swoon (Squoon?)
"He thinks he'll be remembered as the villain in the story."

She snorted.

"But I forgot to tell him," I said quietly, opening the door, "that the villain is usually the person who locks up the maiden and throws away the key."

"Oh?"

I shrugged. "He was the one who let me out."
There's also the fact that, mate-bond or no mate-bond, it's clear Rhysand puts Feyre's happiness above his own. He doesn't force her to do anything, and always pushes and challenges her to surpass expectations. If you compare that to the possessiveness that Tamlin displayed in ACOTAR and the growing obsession of keeping Feyre safe from his enemies in ACOMAF, Rhysand is pretty much doing everything right to get the girl, including letting her decide whether to put herself in danger for his beloved City of Starlight.
He wiped away the tears on one cheek, then another. "You can either let it wreck you, let it get you killed like it nearly did with the Weaver, or you can learn to live with it."
Sigh. Definitely shipping these two to kingdom come.
Rhysand's Inner Circle is a barrelful of awesome. Seriously, Rhys pretty much is a misfit magnet, and that's mostly because he's a dreamer as well as the most powerful High Lord in all of Prythian. When I finally met Morrigan and Amren and Cassian and Azriel, I was already smitten with Rhys, and then I started being seduced into the Inner Circle madness. Cassian and Azriel are definitely fantastic Illyrians (they kind of remind me of Liraz and Hazael from Laini Taylor's Daughter of Smoke and Bone series), and Mor and Amren steal the show half the time. Hell, there were many more characters that I liked in this book, including Tarquin and Elain, and of course the fabulously fierce Nesta.
And the plot thickens. But I won't get into what happens, only that things definitely heat up–and not in a sexy way–by the end. And yes, so it might take me a while to read the next book in the series, but I'm definitely not going to dismiss it outright like I'd done after ACOTAR.
5 out of 5 cookies! Sigh. SUCH a good book.
---
Did you read this book? What did you think?