Initial Thoughts: 
I don't know why Educated affected me so much, because relating to it is stranger than suspending disbelief in a fantasy, but holy shit. I cringed. I cried (damn you, Chapter 38!!!). I got angry several times and wanted to chuck whatever I was holding all the way to Buck's Peak. And yet I couldn't stop going through this book.
---
EDUCATED
Tara Westover
Random House, February 2018
Memoir, Nonfiction
Rated: 5 / 5 cookies
Tara Westover was 17 the first time she set foot in a classroom. Born to survivalists in the mountains of Idaho, she prepared for the end of the world by stockpiling home-canned peaches and sleeping with her "head-for-the-hills bag". In the summer she stewed herbs for her mother, a midwife and healer, and in the winter she salvaged in her father's junkyard.

Her father forbade hospitals, so Tara never saw a doctor or nurse. Gashes and concussions, even burns from explosions, were all treated at home with herbalism. The family was so isolated from mainstream society that there was no one to ensure the children received an education and no one to intervene when one of Tara's older brothers became violent.

Then, lacking any formal education, Tara began to educate herself. She taught herself enough mathematics and grammar to be admitted to Brigham Young University, where she studied history, learning for the first time about important world events like the Holocaust and the civil rights movement. Her quest for knowledge transformed her, taking her over oceans and across continents, to Harvard and to Cambridge. Only then would she wonder if she'd traveled too far, if there was still a way home.
Well hello, Blog, I'm baaaaack!
So I've taken a month hiatus from the blogoverse, mostly because I've been in a "blah mood" since the new year. Perhaps I needed the mental break from the neurotic need to read on a schedule and churn out book reviews on a schedule. Or maybe I just wasn't reading books good enough to really review. Ironically, I started using a book journal to keep track of my reads on a monthly basis, and honestly, January was a dry month. Not surprising, because it normally is.
One month later, and here we are.
It's apropos that I'm starting up my blogging again by putting up my review of a book I'd read at the end of January. For one thing, it's pretty much been a year since the book came out, and it had been on my audiobook holds list for some several weeks now. Even before it got blasted with high praise from people like Bill Effing Gates, I found the premise interesting, and albeit something I could never have truly experienced myself.
Educated is a harrowing book. It deals with a woman who grew up in a family of extremists, and to add to the "educated" theme of the story, the book is told in the perspective of a girl growing up to finally educate herself and get out of an abusive home life. It is a perspective riddled with a limited viewpoint, but even so, it's enlightening to see, even when I spent a good deal of time wanting to wring somebody's neck.
Talk about needing to do violence as a resort of hearing about violence, right?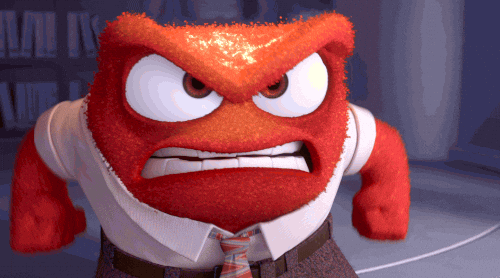 In any case, I cannot possibly know how much of the memoir is fact or is the product of a girl's clouded vision that led to her indoctrinated and skewed view of life, but the writing itself was pretty damn compelling. Westover had me sympathizing with her plight, though honestly, that's not hard to do, considering where she grew up.
I couldn't bring myself to think about the amount of family she'd had to abandon, especially because in my life, family is almost everything to me. To make a break for it, after she's been made fully aware of her situation, was monumental. I applaud her for it, even though it must have been a very difficult situation.
So yeah. The book wasn't something I loved because it was entertaining. It was a book that frustrated me because it took so. damn. long for Westover to finally break her father and her brothers' hold on her. I honestly wanted to chuck something out the window whenever her older brother found another way to humiliate and abuse her. It was frustrating at best, infuriating at worst.
5 out of 5 cookies! I don't think I could bring myself to read–or listen–to this again, but it's definitely a book to talk about.
Have you read this book? What did you think?