Initial Thoughts:
As with any short story collection, this little gem had stellar stories, great stories, good stories, and those that weren't for me. Personal favorites were definitely "Spinning Silver," "Even the Crumbs Were Delicious," "Seasons of Glass and Iron," and "The Briar and the Rose".
---
THE STARLIT WOOD: NEW FAIRY TALES
edited by Dominik Parisien, Navah Wolfe
Saga Press, October 2016
Fairy tale retellings, short stories
Rated: 4 / 5 cookies
Once upon a time. It's how so many of our most beloved stories start.

Fairy tales have dominated our cultural imagination for centuries. From the Brothers Grimm to the Countess d'Aulnoy, from Charles Perrault to Hans Christian Anderson, storytellers have crafted all sorts of tales that have always found a place in our hearts.

Now a new generation of storytellers have taken up the mantle that the masters created and shaped their stories into something startling and electrifying.

Packed with award-winning authors, this anthology explores an array of fairy tales in startling and innovative ways, in genres and settings both traditional and unusual, including science fiction, western, and post-apocalyptic as well as traditional fantasy and contemporary horror.
I got this collection from two different Secret Santas who thought this was perfect for me, and you know what? They were definitely right on that respect. I enjoy fairy tale retellings, novel and short story alike, and this one had an assortment of retellings from both authors I'm familiar with and authors I am now just discovering.
The Starlit Wood is definitely an assortment of fairy tales that actually have nothing to do with the forest. Most fairy tales tend to majorly take place in a forest setting, almost to the point that the forest itself takes on its own character (something Naomi Novik does in Uprooted…which I will get back to when I get to her short story). In the case of the short story collection, many of the reimaginings take the stories out of the woods and into space, or in a modern setting, or really, on a glass hill.
As with many short story collections, The Starlit Wood had stories I loved, that stood out and made me re-look at old tales with new eyes. I also really appreciated the commentary each author had about the tale they used and why they decided on the direction of their story. Many of the fairy tales were familiar, while others sent me into researching the original tale to make sense of the stories themselves. Many tales had me invested in the story itself, while a few others had me scratching my head.
In any case, I took copious notes, but decided ah, screw it. Let's talk about all of them!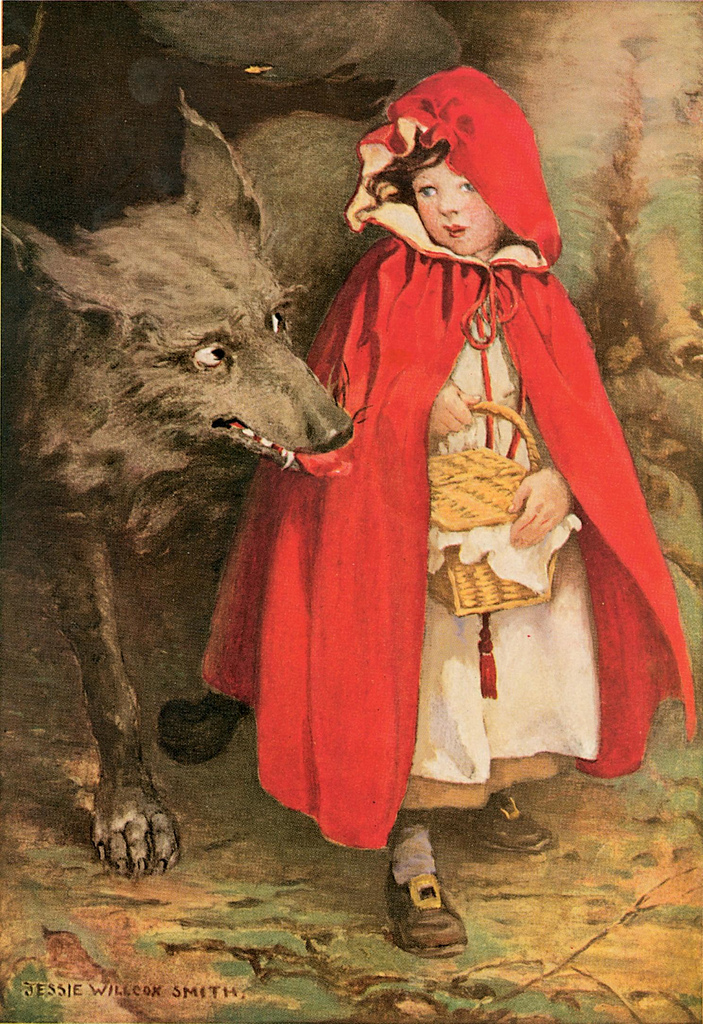 "In the Desert Like a Bone" by Seanan McGuire – Talk about taking Little Red Riding Hood out of the forest…this one puts our little red-cloaked girl in a Western desert setting. With werewolves. It was a good tale to open up, and certainly sets up the general atmosphere of these tales being "more than they seem."
"Underground" by Karin Tidbeck – A retelling of "East of the Sun, West of the Moon," which is pretty much one of the original adaptations of Beauty and the Beast (or, if you're a mythology fan, the tale of Psyche and Eros). I'm still unsure how I feel about the protagonist; she went from having the personality of tofu to suddenly lashing out at the end, and I was only glad she wasn't a deadbeat mother by the end of things.
"Even the Crumbs Were Delicious" by Daryl Gregory – This made me laugh, because it reminded of the movie, Hansel and Gretel Get Baked. I mean, the premise is fairly similar, only the "witch" is a drug-dealer whose roommate goes missing, and now he has to deal with two teenagers who are drugged out of their minds. Hilarity ensues, and honestly, I spent a great deal laughing over this story.
"The Super Ultra Duchess of Fedora Forest" by Charlie Jane Anders – Based off of "The Mouse, the Bird, and the Sausage", which is already a strange enough tale as is. Not my cup of tea, since I'm not a big fan of animal-type tales to begin with. This story just dragged, too, so that probably didn't help.
"Familiaris" by Genevieve Valentine – Based off "The Wolves," though this particular short isn't really a retelling in the sense of a word. Mostly it reads like an essay that highlights how women are pretty much doomed and set off to be eaten by "wolves" after marriage and childbirth. Kind of depressing. As an analysis, it was good to read. As a story? Not sure.
"Seasons of Glass and Iron" by Amal el-Mohtar – This was definitely one of my favorites, though I only recognized one of the fairy tales being retold here. Based off of "The Glass Mountain" and "The Black Bull of Norroway", this story showcases two "damsels" who have to overcome their obstacles/curses somehow. In the end, the two manage to get out of their predicaments, and form a deep friendship to boot. It was sweet and well-written.
"Badgirl, the Deadman, and the Wheel of Fortune" by Catherynne M. Valente – Trust Valente to write about one of the more obscure tales: "The Girl with No Hands." It's a dark, dark tale about a girl who finds herself traded off in return for drugs. The story wasn't one of my personal favorites, but there's no denying the beautiful prose and the way Valente's words made me grieve for the poor girl at the end of the tale.
"Penny for a Match, Mister?" by Garth Nix – Another author I actually love, and his version of "The Little Match Girl" ends in sweet, sweet vengeance. Just how I like it. Of course he also writes about spirits that were unable to pass to the Other Side, and all I kept doing as I read was grin about how the whole thing just reminded me of a Western-style Mogget from his Abhorsen series. #sorrynotsorry
"Some Wait" by Stephen Graham Jones – This was pretty horrific, and I do not recommend reading this at night. Based off "The Pied Piper," the story takes place in a small town, where children start to disappear one by one. The horror itself creeps up on you, and mostly it's horrific to see this entire story unfold through the eyes of an actual parent, whose kid is one of the first few to go missing. The fact that there isn't really a "resolution" to the conflict makes it even scarier.
"The Thousand Eyes" by Jeffrey Ford – I should have been able to relate to this, living in NJ, but this retelling of "The Voice of Death" didn't really resonate. I wasn't feeling the South Jersey vibe or the whole need to listen to a band play in a bar. It does feel a little dated, and unfortunately the nostalgia didn't work in my case.
"Giants in the Sky" by Max Gladstone – This was the weirdest retelling of "Jack and the Beanstalk" I've ever read. It was mostly a wireless transmitted set of messages between some strange beanstalk entity and its troubles with the bureaucratic authorities (funny how this never changes, even in the future), a spaceship named Org, and the fact that mortals keep getting on the space elevator (aka the Beanstalk) that results in their deaths. Like I said, really weird.
"The Briar and the Rose" by Marjorie Lu – Without fail, Marjorie Lu doesn't disappoint with her LGBT motif. The retelling of "Sleeping Beauty" kind of reminds me of "The Sleeper and the Spindle" by Neil Gaiman; both retellings give Briar Rose a female "savior" in a sense. In Lu's case, though, there's an enchantress at work, and both females eventually gain some agency that allows them to escape. A personal favorite!
"The Other Thea" by  Theodora Goss – Based on "The Shadow," it was actually difficult to get into this story. It reminded me a little bit of the whole Peter Pan trying to get his shadow back, but finding that his shadow is reluctant to return. In this case, Thea's story has a backdrop of a magical academy and she's a witch. I really wanted to like the story because of this, but I just couldn't get into it.
"When I Lay Frozen" by Margo Lanagan – Perhaps it's because I really enjoyed the stories previous to Lanagan's and Goss's, but this version of "Thumbelina" didn't really resonate with me, either. But then again, I was never a fan of the Thumbelina or Tom Thumb stories to begin with.
"Pearl" by Aliette de Bodard – The story is based off of "Da Trang and the Pearl" and honestly, the fact that this was a retelling of a non-Western fairy tale made this a really great idea. As is, I think I was a little put off by the fact that it became a short story space opera, and I am all space opera-ed out at the moment.
"The Tale of Mahliya and Mauhub and the White-Footed Gazelle" by Sofia Samatar – The retelling is, like "Familiaris", an essay or analysis of the actual story of the same name. I found I mostly nodded off on this tale. Again, one of the problems was that I'm really just not into animal tales to begin with. The other was that I would rather have read the original story itself and made my own mind about how to analyze it.
"Reflected" by Kat Howard – I really enjoyed how Kat Howard managed to condense the story of "The Snow Queen" into this modern retelling about physicists and their study of mirrors. If you've ever read "The Snow Queen," reading "Reflected" is like just taking a glimpse of one small portion of what really happens in the tale. But I still enjoyed that glimpse nonetheless.
"Spinning Silver" by Naomi Novik – I was actually really excited that there was a short story by Novik here, and that it was called "Spinning Silver" is totally not a coincidence. I wondered for a while whether this short story would be anything like Spinning Silver, which is Novik's novel. After reading Uprooted and falling in love with how Novik retold fairy tales, "Spinning Silver" was no different. I loved that her Rumplestiltskin damsel isn't quite the damsel you expect; she has agency and is not afraid to be merciless with it. Obviously her book tells the Rumplestiltskin story differently, but I'm really pleased that the main character is the same.
Phew. I think I covered all the stories!
4 out of 5 cookies! As I said, there was an assortment of loves, likes, and mehs.
Have you read any of these stories? What did you think?