Initial Thoughts: 
Seemed a bit tame compared to some of the historical romances I've dabbled with, but honestly, I mostly adored Daphne's three older brothers in the book. I don't think I particularly took to Daphne and Simon's relationship as much as I did in the TV adaptation, but I did enjoy them as characters as well.
Slight warning: I made the mistake of reading the "Second Epilogue" for The Duke & I, and er, it did a lot of spoiling for the outcomes of later books. So be forewarned.
---
THE DUKE AND I
By Julia Quinn
Avon Books, June 2006
Historical romance
Rated: 3 / 5 cookies
In the ballrooms and drawing rooms of Regency London, rules abound. From their earliest days, children of aristocrats learn how to address an earl and curtsey before a prince—while other dictates of the ton are unspoken yet universally understood. A proper duke should be imperious and aloof. A young, marriageable lady should be amiable…but not too amiable.

Daphne Bridgerton has always failed at the latter. The fourth of eight siblings in her close-knit family, she has formed friendships with the most eligible young men in London. Everyone likes Daphne for her kindness and wit. But no one truly desires her. She is simply too deuced honest for that, too unwilling to play the romantic games that captivate gentlemen.

Amiability is not a characteristic shared by Simon Basset, Duke of Hastings. Recently returned to England from abroad, he intends to shun both marriage and society—just as his callous father shunned Simon throughout his painful childhood. Yet an encounter with his best friend's sister offers another option. If Daphne agrees to a fake courtship, Simon can deter the mamas who parade their daughters before him. Daphne, meanwhile, will see her prospects and her reputation soar.

The plan works like a charm—at first. But amid the glittering, gossipy, cut-throat world of London's elite, there is only one certainty: love ignores every rule…
I'm going to say it right now: I read this book solely because I enjoyed and binged Bridgerton in a span of a few days. And I wrote this review solely because I then get to just find pictures of the most scrumptious Simon Basset, Duke of Hastings.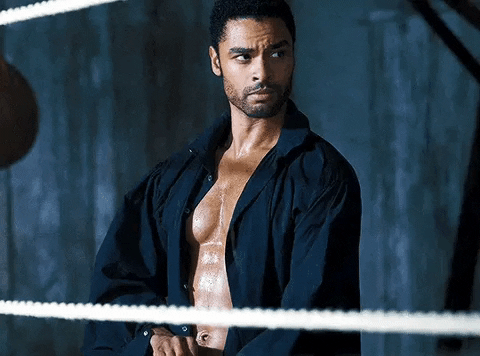 No shame.
Also, I kind of turned this into a comparison review, because try as I might, I couldn't stop comparing the book to the show, especially with all the drama and the characters, and the story that went along with it!
SPOILER ALERT: For those who have not watched Bridgerton on Netflix or read the book, there will be spoilers ahead!
The Duke and I is the first book of Julia Quinn's Bridgerton novels, and the story largely follows Daphne Bridgerton's attempts to snatch a husband within her second Season. The book also follows the perspective of Simon Basset, the new Duke of Hastings, whose sole goal is to avoid Society and never marry. But since this is a historical romance novel taking place in the Regency period, it plays out kind of like a steamy version of Pride and Prejudice with the added bonus of Gossip Girl.
I kid you not, it's a train wreck combination I refuse to look away from.
The book is definitely not as expansive as the show, though considering there are 8 novels–each focusing on a different Bridgerton sibling–I think there's good reason for that, since a lot of the stories probably take place in the book itself. There were a lot of characters and subplots in the Netflix show, and while I appreciated the introduction and playing out of some subplots, I couldn't be bothered to follow others (the opera singer and Marina Thompson subplots were completely irrelevant I couldn't even). A key difference I definitely liked was the change in Lady Danbury's role, from being a really minor character with no relation to anyone, to being Simon's pretty scary, but lovable, sassy aunt.
That being said, what I loved about Bridgerton and The Duke and I were the Bridgertons themselves.
The Bridgertons
The book kind of gave more focus on the Bridgerton brothers, while Eloise certainly got a lot of limelight in the show. I found Eloise amusing, although grating from time to time, but the presence of her friendship in Penelope Featherington made it worthwhile. I loved Penelope, and while she rarely featured in The Duke and I, I loved having her be a background character in Bridgerton. (Also, points to the show paying homage to the ghastly color palette that Penelope gets stuck with in book!)
As for Daphne's brothers…
Colin's chuckles grew more heartfelt. "You really ought to have more faith in your favorite brother, dear sis."

"He's your favorite brother?" Simon asked, one dark brow raised in disbelief.

"Only because Gregory put a toad in my bed last night," Daphne bit off, "and Benedict's standing has never recovered from the time he beheaded my favorite doll."

"Makes me wonder what Anthony's done to deny him even an honorable mention," Colin murmured.
I didn't care for them in the show as much, actually. They had more of a role in Daphne's life in The Duke and I, and they were much more interesting there, albeit their constant attempts to kill Simon for his nonsense. I took a dislike to Anthony Bridgerton in the first two episodes of Bridgerton, but I absolutely loved him when he was introduced in the book, so there's definitely a huge difference there. Colin wasn't so impressive in the show, either, but he's my favorite Bridgerton boy so far.
That being said, they did on occasion have their shining moments in the show.
And I kind of adored the bromance that is book-Simon and Anthony. Both get showcased in the show and the book tremendously well.
Simon glared at Anthony. Anthony glared at Simon. Daphne yanked.

"This isn't over, Hastings," Anthony hissed. "Far from it," Simon hissed back.
They literally do this every other scene with the both of them. Regency men are so dramatic!
Also also also! My favorite scene falls under a conversation between Daphne and Anthony trying to boil milk. I swear I ended up laughing over that scene for a while. And I'm so glad it was actually part of the book!
The Duke and Daphne
Seriously, though, they couldn't have cast a more delicious man in the role of Simon Basset in the show. I don't think I would have liked him as much, to be honest, if he wasn't so scrumptious–and that's me on a superficial level (and when one is quarantined, one can't exactly help the superficialness–though ONE DOES NOT APOLOGIZE FOR SAID SHALLOW PERSPECTIVE).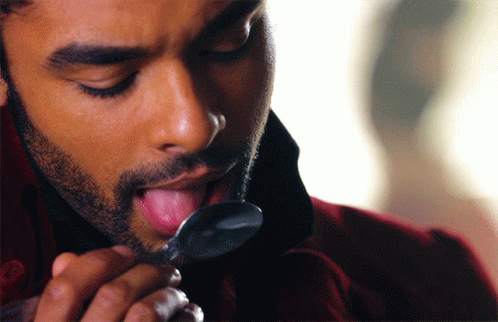 And here's where the problem lay. I thought a lot of the drama between Simon and Daphne dealt with a failure to communicate. Honestly, it seemed contrived that the major plot point revolved around Violet Bridgerton and Simon Basset withholding information, and Daphne–who's supposed to be clever, witty, and knowledgeable enough because she has four brothers (a fact she constantly brings up in the book)–not knowing much about sex. It doesn't seem believable that a woman who has mothered 8 children can feel "shy" about discussing how babies are born. It doesn't seem believable that not once does Daphne hear about her brothers' sex lives but still knows what rakes do ("sow their wild oats" was used at least once in the show). And Simon's entire reason just seemed really stupid when said aloud by Daphne in the show. I felt a bit more for Simon in the book, because that scene at the end of episode 6 felt a bit more extreme in the novel, and Simon's reaction, plus anger, was definitely more justifiable (it was just cringe-y in the show).
All the same, I kind of am glad there was a resolution to be had, and that Daphne and Simon worked out the kinks (heh) of their relationship. The interaction between Daphne and the Duke in Bridgerton were also kind of fantastic.
AND THAT SPEECH TO THE QUEEN.
This Author can only imagine the level of relief in the Hastings household; after all, it is a truth universally acknowledged that a married man in possession of a good fortune must be in want of an heir.
FURTHERMORE, it's kind of hard not to ship them in Bridgerton when their love scenes include a montage with Taylor Swift's "Wildest Dreams" being played on strings in the background. That is all.
3 out of 5 cookies! As far as the sexy times in the book, it was kind of tame compared to a few others I've read. The show, on the other hand, was terribly spicy.
---
Have you read the book or watched the show? What did you think?