Initial Thoughts
Reading this was like delving into what Howl's Moving Castle would be like if it had the magic system of Read or Die. I thoroughly enjoyed learning about the system of Folding, and seeing how Ceony dealt with her skills in the subject. The plot and characters, though, I'm still iffy about. I feel like the story went too quickly in some parts (not sure how I feel about the romance yet tbh) and too slowly in others (so many disjointed memories I didn't quite care for), and I really wanted more on the whole "Excisioners are bad and here's why" story!
I'm curious to see what happens next, though, so I'll definitely read the continuation.
---
THE PAPER MAGICIAN
by Charlie N. Holmberg
47North, September 2014
Fantasy, historical fiction, romance
Rated: 3.5 / 5 cookies
Ceony Twill arrives at the cottage of Magician Emery Thane with a broken heart. Having graduated at the top of her class from the Tagis Praff School for the Magically Inclined, Ceony is assigned an apprenticeship in paper magic despite her dreams of bespelling metal. And once she's bonded to paper, that will be her only magic…forever.

Yet the spells Ceony learns under the strange yet kind Thane turn out to be more marvelous than she could have ever imagined—animating paper creatures, bringing stories to life via ghostly images, even reading fortunes. But as she discovers these wonders, Ceony also learns of the extraordinary dangers of forbidden magic.

An Excisioner—a practitioner of dark, flesh magic—invades the cottage and rips Thane's heart from his chest. To save her teacher's life, Ceony must face the evil magician and embark on an unbelievable adventure that will take her into the chambers of Thane's still-beating heart—and reveal the very soul of the man.
The entire trilogy is a pretty quick read, especially the last two books, which I finished in at most three sittings. I had meant this post to be a full review of all three books, but as I started thinking about it, there's so much more to say about the first book that spurred on The Glass Magician and then The Master Magician. So I decided a full review for The Paper Magician for sure, but two minis for the others, since they're really a continuation of the first book.
I enjoyed getting into the magic system of The Paper Magician. While magic in London is not new, I loved that the majority of the "materials magic" (paper, glass, plastics, rubber, etc.) pull from a more scientific front. I loved that you have more of the typical magic (blood, fire/pyro) mixed in with glass, paper, and even polymaking and smelting (plastics and metals). I loved that each subsequent book explored this system in greater degrees according to how the story played out.
The story starts out directly enough. Ceony Twill is a recent graduate of Tagis Praff School for the Magically Inclined, and at the top of her class she had every makings of a magician who can choose which material to bond with. Unfortunately, not so, and Ceony finds herself required to apprentice with a paper magician. In the magical circles, paper is considered the weakest of the material magics, and there are only few masters of the craft. This brings Ceony to the doorstep of paper magician Emery Thane. It's a match made in all manner of reluctance, at least in the beginning.
But as Ceony begins to learn more about the magic of paper and the magician teaching her, Ceony begins to understand the value of an almost lost material magic. There is more to paper magic than meets the eye, and she sees this in the life breathed through her magical bond.
And then, of course, there's the matter of the dangers that seem to follow Emery himself. Ceony's mentor, like his magic, is more than meets the eye, and Ceony eventually finds herself–and Emery–in dangerous contact with blood magic users (Excisioners, magicians of the flesh). This sends Ceony in a dangerous quest, one that started solely with a beating paper heart.
Also, anyone getting Howl's Moving Castle vibes from Ceony? I felt like her personality reminded me of Sophie's, except with fantastic memory. It is also not lost on me that this poor girl has to go off and save her man, despite her utter lack of experience doing such things.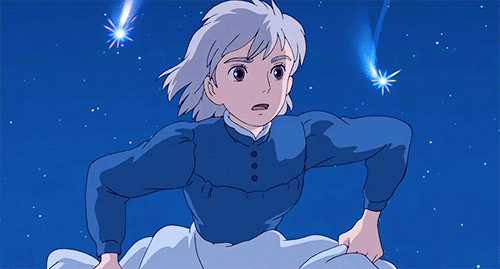 I loved the focus on paper magic here, but I'm also biased because the last time I'd really experienced seeing/reading about paper magic was through Read or Die. Yes, there's a fundamental con about using paper itself, most of which deal with getting the paper wet. However, reinforced as is, it is a formidable magic (I mean, who hasn't agonized over a simple paper cut? Now project that to mean several hundred paper cuts…). As the story went on, we definitely see Ceony playing with different methods of paper magic.
The relationship was also pretty slow-build, and at first I'd been a bit reluctant to get into something that was most definitely a teacher-student romantic relationship (especially when I absolutely HATE this trope in young adult contemporary books–when the student is much, MUCH younger than her mentor and her mentor should definitely know better). However, I think the mentality is there because of how old the characters are at the start of a story. In Ceony's case, I felt she was already an adult (19 going on 20 in book 1, 22 by book 3) that she can make up her own mind about these things. Also, I don't blame her, Emery Thane cuts an interesting–and definitely alluring–figure.
I did wish there was more focus on the bigger, more hard-hitting plotlines. Granted, this book opened up for the future plots of the next two books, and it was great seeing into Emery's heart, but being solely in Ceony's perspective severely limited the overall picture of Excisioners and the dangers they pose to the greater world.
3.5 / 5 cookies! I definitely recommend the entire trilogy for the magic system alone.
---
Have you read this book? What did you think?