Initial Thoughts
I am indisputably a Kanthony shipper after that chef's kiss ending in Bridgerton season 2, and it has not changed after reading this book. I loved that there was much more steam in the book, and some of the stuff Anthony said on the pages were sorely missed in the show. HOWEVER, if I was doing a direct comparison (which, honestly, as a reader and watcher, it was bound to happen), I'm actually glad of the direction the showrunners took the relationship and the way they kept the tension through and through. All in all, definitely one of my favorite book and TV show couples to date. And that's saying something.
---
THE VISCOUNT WHO LOVED ME
by Julia Quinn
Avon Books, June 2006
Historical romance
Rated: 4 / 5 cookies
1814 promises to be another eventful season, but not, this author believes, for Anthony Bridgerton, London's most elusive bachelor, who has shown no indication that he plans to marry.
And in truth, why should he? When it comes to playing the consummate rake, nobody does it better…
—Lady Whistledown's Society Papers, April 1814

But this time, the gossip columnists have it wrong. Anthony Bridgerton hasn't just decided to marry—he's even chosen a wife! The only obstacle is his intended's older sister, Kate Sheffield—the most meddlesome woman ever to grace a London ballroom. The spirited schemer is driving Anthony mad with her determination to stop the betrothal, but when he closes his eyes at night, Kate is the woman haunting his increasingly erotic dreams…

Contrary to popular belief, Kate is quite sure that reformed rakes do not make the best husbands—and Anthony Bridgerton is the most wicked rogue of them all. Kate is determined to protect her sister—but she fears her own heart is vulnerable. And when Anthony's lips touch hers, she's suddenly afraid she might not be able to resist the reprehensible rake herself…
I've been sitting on doing another one of these Bridgerton reviews for the longest time, and mostly because it was hard to put into words the absolute delight I've had watching the second season of the Netflix show based off of Julia Quinn's novels. Again, like my previous review of The Duke & I, my review of The Viscount Who Loved Me will also be doing a bit of a show-book comparison, because I can. Also, because honestly, each medium did something relatively well.
Here be spoilers, so if you haven't watched the second season of Bridgerton yet and still plan to (why haven't you?!), better leave this review alone, lol.
I've gotten into the habit of actually watching the season before even reading the book. Normally, this is the reverse, but for the Bridgerton series, I don't mind going the backwards route. It's probably why, when I'd read The Duke & I, I started liking Anthony Bridgerton, versus me being lukewarm to him in the show. Don't get me wrong, the Anthony drama in Season 1 gave context to why he would be the highlight of the second season and why we should care about him, but I never doubted that book!Anthony would win my heart in his story. I already liked him–and Colin–from what I'd read of them in the first book.
Also, that leading man makeover though.
The Book
The Viscount Who Loved Me has a similar feel to the POV style story. Where D&I focused on Simon and Daphne's narratives, Viscount is a story surrounding Anthony and Kate Sheffield, the "shrewish" sister of Anthony's intended. I loosely use the word "intended," because Anthony's plan to get married to Kate's sister Edwina kind of gets thrown by the wayside very quickly, and the focus of the book itself is the banter between Kate and Anthony and their eventual enemies-turned-lovers relationship. You know, the best kind of romance trope there is! (Okay, maybe not, but it's clearly the in-thing these days, and I am a sucker for these!) Also, Newton the Corgi plays a much crucial role in the book, which is even better.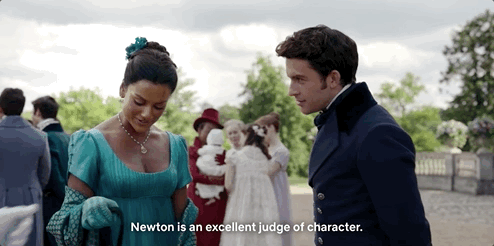 Anthony is now looking to get married, and he hops enthusiastically into the marriage wagon by examining his prospects. Enter Edwina Sheffield, who seems to fit the bill, and what Anthony wants, he eventually gets–or so he thinks. Unfortunately, Kate Sheffield has other ideas for her sister's prospects, and is against the match on account of Anthony's reputation as a rake. Kate is having none of that nonsense for her sister, and is hell-bent on keeping Anthony from trying to woo Edwina. The hostility eventually does turn into mutual understanding, which then eventually turns into tolerance, which–with the help of a bee sting, a panicked and scandalous attempt at removing said bee sting, and multiple scandalized witnesses–turns into betrothal. Only it's Anthony and Kate marrying instead.
Because of the narrative being largely character-driven (Anthony and Kate), much of the story focuses on their developing feelings for each other, as well as the inner conflicts plaguing them. There was definitely much less love triangle drama, and more "does he really love me even though I'm not anything special," and "why can't I get her out of my head she's so vexing" drama (again, the best kinds!).
The book itself had a lot of great gems and developed scenes that unfortunately were changed and/or omitted from the show. Kate and Anthony shared a lot of moments in the book that I'd wished had been used in the show to continue building their relationship. The show had so many side plots that I often did find myself wanting to just skip to the pertinent Kanthony scenes (by the last episode, I was so fed up with Eloise that I gave zero effs what her drama was about). Thankfully, the book itself helped scratch that itch without delving into the unnecessary dramas of the other characters. One of the scenes I was truly sorry didn't make it into the show was the library scene. I thought Kate showing a particular weakness and vulnerability with the storm was endearing, and there was a great heart-to-heart between Kanthony because of this. Some other scenes that live rent-free in my head also include one particular "office tryst," as well as "steamy teatime," but ya know, what can I say, except that I'm trash.
Pall mall was just as charming in the book as in the show, though, and I giggled with equal amounts on both. Kind of sorry that we didn't get the pleasure of Simon's company in the show during that scene, but to be honest, he was kind of dull in the book, which was a shame, because I thought his interactions with Anthony in the first book were great.
It made me also realize that some of the iconic lines spoken by show!Simon is truly attributed to book!Anthony, and much more respect to that. (Here's looking at you, "I burn for you.") I did appreciate the show giving Simon some smooth lines (I wasn't as impressed with him in the book, to be honest), since, you know, Anthony definitely had a plethora handy throughout the book and the show. I also really loved Colin's character in the book, which is something, because I absolutely find him unworthy of Pen-Pen in the show. Considering the next season is confirmed to be the Penelope-Colin storyline (Romancing Mister Bridgerton, book 4 in the series), I needed to get a bit more enthused about Colin as a leading man. I still hope Penelope makes him suffer a lot more in the show, though.
The Show
All that said about my appreciation of The Viscount Who Loved Me and the fact that I loved it over The Duke & I, I will say season 2 of Bridgerton is also my favorite of the two seasons, and solely because of all the emotional edging we experienced throughout the episodes.
Also also also. Y'ALL. I thought season 1 was Pride and Prejudice mixed with Gossip Girl, but season 2, man. Season 2 was definitely giving me strong Pride and Prejudice AND Taming of the Shrew vibes. While Shakespeare's Shrew was never my favorite of his plays, I am trash for 10 Things I Hate About You. And you don't even want to know how obsessed I am with P&P and, well, Jane Austen in general. Suffice to say that I was all up in the story being played around Kanthony. And the fact that the showrunners legit paid homage to some iconic P&P scenes from previous iterations will always stay with me.
Not to mention the casting of Simone Ashley as Kate Sharma (a change, by the way, that I absolutely adored). Naysayers will say what they will, but honestly, I thought the chemistry was absolute fire.
Season 2 also cemented Benedict Bridgerton as one of my favorite show!Bridgertons.
But honestly, I was all there for all the Kanthony moments. ALL. THE. KANTHONY. SCENES.
4 out of 5 cookies! I definitely devoured this book in one or two sittings. Much like I devoured the show. Now to find me a boy who will dance and tell me to look at him because nothing else matters. Oh god I'm crying again.
---
Have you read the book or watched the show? What did you think?